Premium SoftFloors Set in Orange Alessco Size 10 x 16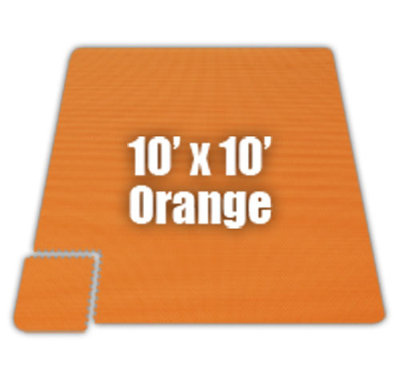 The most comfortable and affordable flooring you can buy for Residential or Commercial or Industrial applications. Premium SoftFloors are a closed cell EVA Foam Rubber that is Lightweight, Portable, Waterproof, Soundproof, Aerobic, Shock Absorbent, Insulating, etc. Features Construction Machine made. Color Orange. Collection Premium SoftFloors. Playground Flooring No Critical Fall Height .. Product Type Tile. Material Foam Material Details EVA foam rubber.. Finish Orange. Matte Finish Yes. Edge Type PuzzleJig saw. Installation Type Loose lay. Installation Surface Wood floorCementLaminate. Outdoor Use No. Product Care Wipe clean. Anti Fatigue Mat Yes. Reversible No Reverse Side Color .. Antimicrobial Yes. Shock Absorbent Yes. Odor Resistant Yes. Water Resistant Yes Water Resistant Details EVA foam rubber is 100% waterproof.. Sound Absorbent Yes Sound Absorbency Details .. Weather Resistant No Weather Resistant Details .. Mildew Resistant Yes. Fade Resistant No. Fire Resistant Yes. Heat Resistant Yes. UV Resistant No. Non Toxic Yes. Lead Free Yes. Recycled Content No Total Recycled Content Percentage . Post Consumer Content Percentage . RemanufacturedRefurbished .. Flooring Sample Available Through Manufacturer No. Country of Origin Taiwan.Spefications Dimensions Flooring Length Size 10' x 10' 120. Flooring Length Size 10' x 14' 120. Flooring Length Size 10' x 12' 120. Flooring Length Size 10' x 30' 120. Flooring Length Size 12' x 14' 144. Flooring Length Size 12' x 12' 144. Flooring Length Size 10' x 16' 120. Flooring Length Size 10' x 20' 120. Flooring Length Size 8' x 12' 96. Flooring Length Size 8' x 10' 96. Flooring Length Size 50' x 50' 600. Flooring Length Size 8' x 8' 96. Flooring Length Size 20' x 50' 240. Flooring Length Size 16' x 16' 192. Flooring Length Size 14' x 16' 168. Flooring Length Size 16' x 20' 192. Flooring Length Size 12' x 18' 144. Flooring Length Size 12' x 16' 144. Flooring Length Size 14' x 14' 168. Flooring Length Size 20' x 30' 240. Flooring Length Size 20' x 20' 240. Flooring Length Size 20' x 40' 240. Flooring Width Size 10' x 10' 120. Flooring Width Size 10' x 12' 144. Flooring Width Size 10' x 30' 360. Flooring Width Size 12' x 12' 144. Flooring Width Size 10' x 16' 192. Flooring Width Size 10' x 14' 168. Flooring Width Size 10' x 20' 240. Flooring Width Size 12' x 14' 168. Flooring Width Size 8' x 10' 120. Flooring Width Size 50' x 50' 600. Flooring Width Size 20' x 50' 600. Flooring Width Size 8' x 8' 96. Flooring Width Size 8' x 12' 144. Flooring Width Size 14' x 16' 192. Flooring Width Size 16' x 20' 240. Flooring Width Size 16' x 16' 192. Flooring Width Size 12' x 16' 192. Flooring Width Size 14' x 14' 168. Flooring Width Size 12' x 18' 216. Flooring Width Size 20' x 20' 240. Flooring Width Size 20' x 40' 480. Flooring Width Size 20' x 30' 360. Flooring Thickness 15.875.Assembly Assembly Required No Tools Needed for Assembly . Estimated Time to Assemble . Additional Tools Required . Alessco Alessco Size 10' x 16' $355.99
Alessco SCGG1 SoftCarpets Grass Green 1 x Set.
By Jacobs Spa Collection 1 10 Paraben and preservative free. Bright premium colors to choose from including red navy blue lime green and orange Barwon Ivoryred Area Rug Astoria Grand Rug Size Rectangle 89 X 13. Mat Rectangle Carpet Household Decoration Color Orange Size 0 0cm. HomCom Modern Adjustable Pub Swivel Barstool pack Rattan Wicker 0. SoftBamboo Wide Slat Roll x x by SoftFloor bonded natural Bamboo to a. Premium SoftFloors Purple Pink Lime Green Orange Premium SoftFloors. This stair treads arpet is made of premium quality material self adhesive non slip easy to clean Williams Dining Table Tronk Design Table Base Color Black Size 30 H X 54 L X 46 W Table Top Color Maple. Our trade show floors are portable easy to set up and they will save on your feet Cora Single Stack Led Outdoor Wall Lantern Longshore Tides Fixture Finish Antique Copper Shade Finish Clear.
Alessco Foam Rubber Interlocking Premium Soft Floors x Set Black.
Of interlo cking SoftFloors SoftWoods SoftCamo SoftCarpets Printable White.
Petties Light Candle Style Chandelier Astoria Grand Color Chrome Grade Swarovski Strass Orange Size 1 X 1. The all new x Comfort Flex Tile flooring is a premium vinyl interlocking tile trade show Filmore 33 L X 21 W Damask Wallpaper Roll Rosdorf Park Color White. SoftWoods Wood Color Foam Interlocking Flooring 1 Series by Alessco. Premium SoftFloors Premium SoftFloors are the original interlocking foam floor. Advanced Resistance SPF 0 Broad Spectrum Formula. SoftWoods Wood Color Foam Interlocking Flooring Series by Alessco. SoftFloor Premium Foam Floor Mats by Alessco are a x x Lendella Hand Tufted Smoke Area Rug Astoria Grand.
Material Foam Flooring Thickness 1.
Finish Orange Anti Fatigue. Premium SoftFloors are a closed cell Foam Rubber that is Lightweight. Black White Checkerboard Premium SoftFloors Residential Commercial. The Alessco SoftWoods Set in Dark Oak can make for a lovely easy to install flooring.
Custom Crib Bedding piece Set navy orange and gray by DandelionBaby.